● Product Description
This smart LED light bulbs use the tuya system and is controlled with a mobile app "Smart Life". The use of PA lamp body material, good heat dissipation, good quality and high cost performance. Our WiFi light bulb provides high lumen output and saves more than 90% of power consumption without losing any brightness.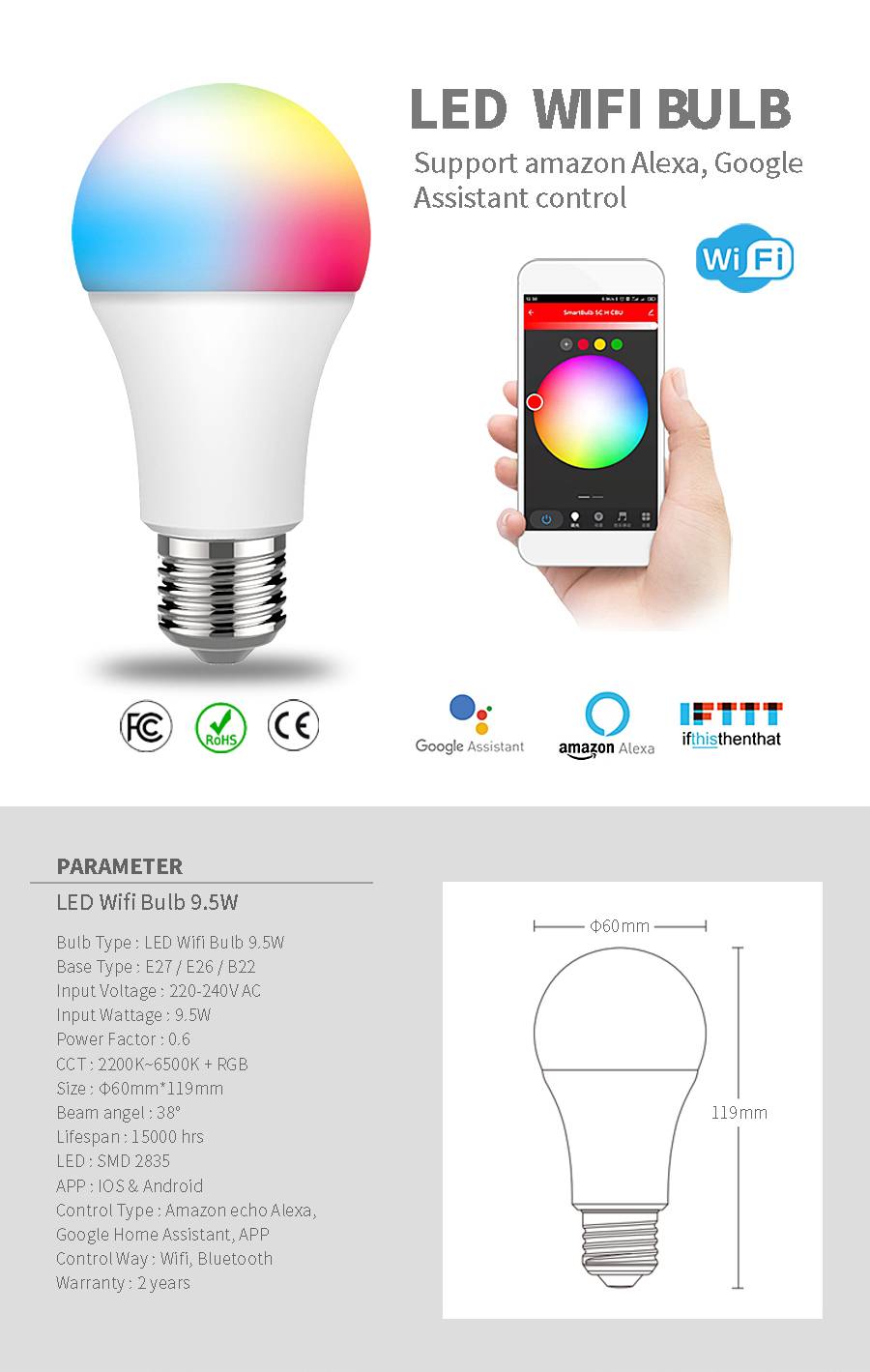 ● Features
1. With TUYA smart system and Smart Life APP control;
2. Work with Amazon Alexa, Google Assistant, no gateway required;
3. 16+ million colors in RGB mode;
4. Quality SMD 2835, 2200K-6500K+RGB;
5. Many functions to play: APP Remote Control; Hands-Free Voice Control; Smart Timer Setting; Sync with Music; Dimmable & Color Settings; Group/Schedule Control, etc.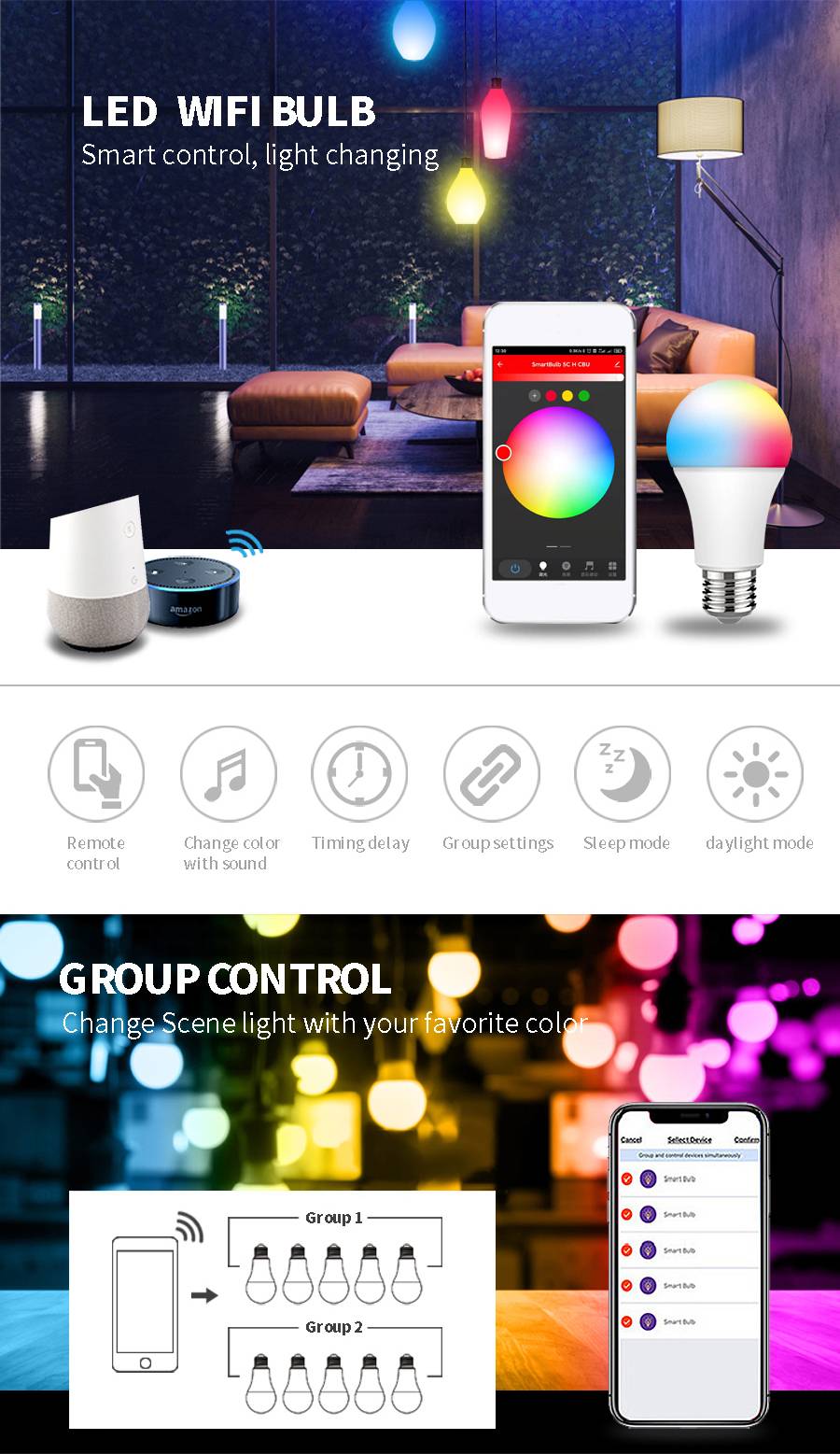 ● Options
1. Color selection: single color, dual color or RGB
2. Different voltage options available: [email protected] Hz; [email protected]; [email protected].
3. Different packaging options: support 1pc/box, 2pcs/box or 4pcs/box
● Installation
To avoid electric shock, maintenance and installation should be carried out by a professional electrician
Please use within the correct input power range
Do not use in the outdoor environment
Before installation, turn off the power to make sure safety
● Set-up with Smart Life App
Step 1: Search for the "Smart Life" on the App Store or Google Play. You can also scan the QR code in our User Manual provided.
Step 2: Register/Login to the App using your phone number or email address. A verification code will be sent if you are attempting to register.
Step 3: Select Add Device or the "+" icon.
Step 4: Screw your google smart bulbs into your desired light location, power on it. Then turn on-off-on-off-on until the bulb flashed quickly.
Step 5: Select the device and tap "Confirm light blinks rapidly". Input the Wi-Fi password to your device and then tap "Done".
● Application
The smart LED light bulbs become the most popular light source all over the world. This WiFi light bulb perfect for home, bar, shop, living room, KTV, store, hotel, shop window, coffee shop, party, etc.

● Brief introduction of ADAYO Lighting
ADAYO was founded in 1993, listed in 2017, the main modes of cooperation are OEM, ODM and SKD. Industrial park area: 560000sqm.
There are three main business line of ADAYO lighting: LED lighting, LED package and LED big power supply;
With R&D laboratory covered 1200m² with international standard;
R&D team more than 60 people, one third of them with more than 20 years of experience in the lighting industry;
Work Shop 5000 SQM with more than 300 works and 50 production lines;
Website: https://www.adayoled.com/
HUIZHOU FORYOU OPTOELECTRONICS TECHNOLOGY CO., LTD
Add: Foryou Industrial Park Area B -- Plant NO.6 No.1North Shangxia Road, Dongjiang High-tech Industry Park, Huizhou City,Guangdong Province
Phone & WhatsApp: 0086 13827734167
Tel: 0086-752-5300601
Fax: 0086-752-5300099
E-mail: [email protected]