Dear Esteemed customers,
Adayo Lighting warmly invites you to attend the coming Guangzhou International Lighting Exhibition from June 9th to 12th, 2023. As a outstanding manufacturer of LED lighting, we are excited to show our latest products and innovations at this prestigious event.
Date: June 9th to 12th, 2023
Booth No.: Hall 10.2-E66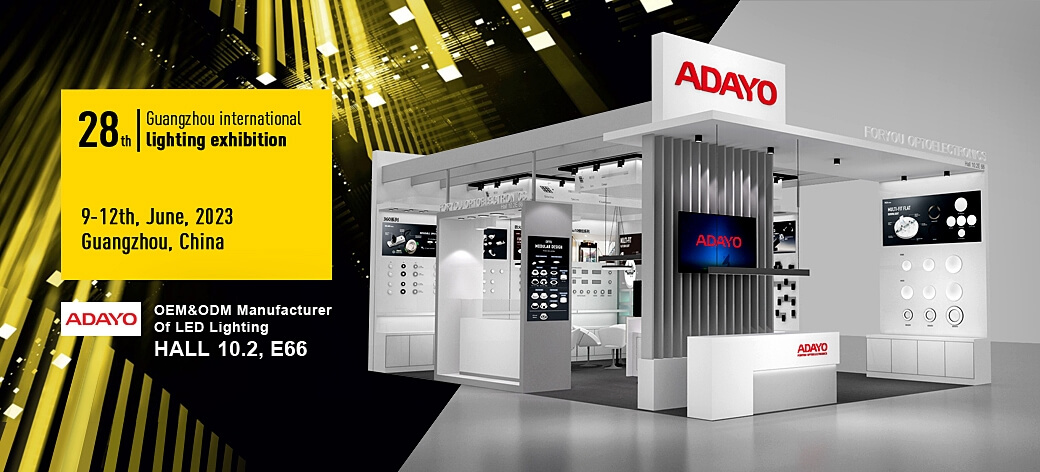 In order to fulfill new trends of sustainability ,Recycle ,replacement and protect the environment, we will showcase our latest LED lighting products, including Residential Lighting, Commercial lighting and smart lighting. Especially we will launch new series. Our professional sales consultant, product manager for each market will be on hand to answer your questions, provide solution and proposal according to your market demands, sales channels and share you the marketing trends and technologies. We hope to be your R&D and manufacture center. Anticipate to provide you continued competitiveness for new product development, high cost-effective, MOQ ,fast lead time, stable quality support and bring more extra value to help you promote your brand and take more marketing share.
More about us pls find www.adayoled.com
Welcome to get 2023-2024 new E-catalogue from our Sales Team.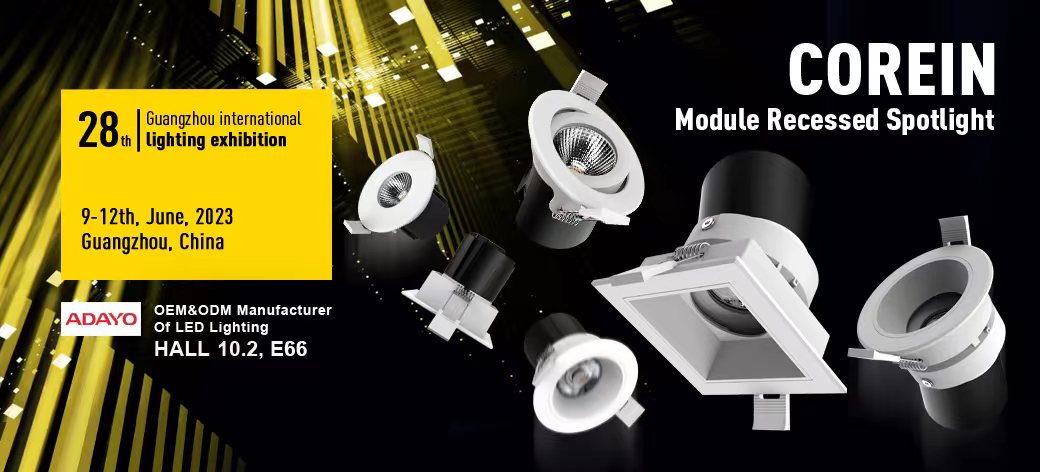 Visiting guide of Guangzhou lighting fair:
1. How to search us?
Step 1 click on the link
https://guangzhou-international-lighting-exhibition.hk.messefrankfurt.com/guangzhou/en/exhibitor-search.html?
Step 2 Input "HUIZHOU FORYOU"
Step 3 Click SEARCH, and the result will appear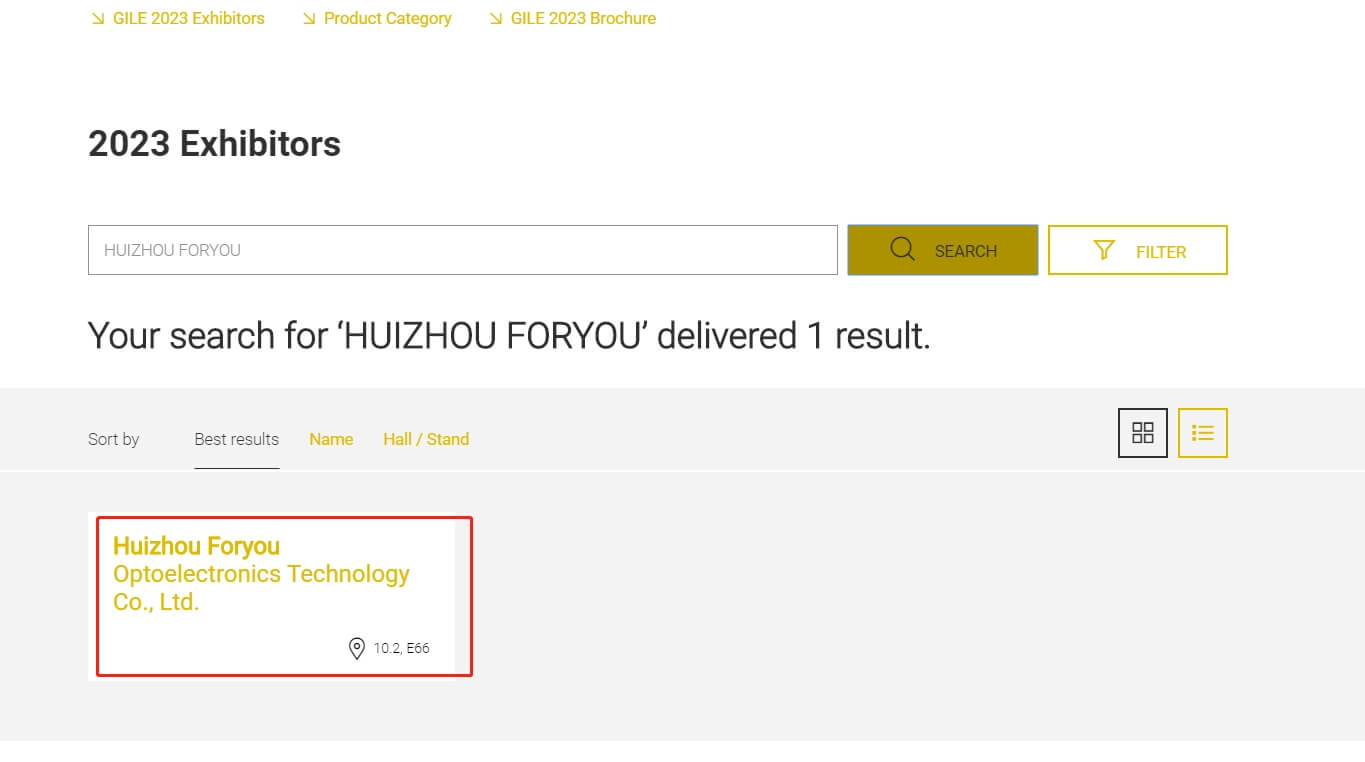 2. How to register for free admission tickets?
Long press the picture, scan the QR code in the picture and fill in your mobile phone number or email.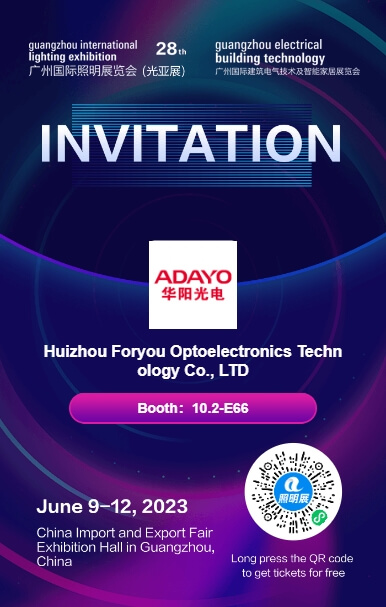 3. The registration entrance for foreign customers is as follows:
Click the link: https://bit.ly/3KVMHNo
4. Entry Management Policy.
China will fully resume fast customs clearance at ports from May 15.
From 00:00 on March 15th, China will continue to adjust its visa and entry policies. Foreigners who come to China with visas issued before March 28, 2020 and that are still valid will be allowed to enter the country, and Hainan visa-free entry and Shanghai cruise ship visa-free will be resumed. , Visa-free policies for foreigners from Hong Kong and Macao to enter Guangdong in groups, and visa-free policies for ASEAN tourist groups to enter Guilin, Guangxi.
In conclusion, Warmly welcome to visit our next month's Guangzhou International Lighting Exhibition fair booth #Hall 10.2E 66 for more new products. We are confident that our innovative products, knowledgeable experts, and personalized service will exceed your expectations. We look forward to seeing you at the exhibition!
Our Huizhou factory is near Guangzhou ,Shenzhen,Hongkong,Dongguan,Foshan, and Zhongshan city. Warmly welcome visit our factory also!
Guangzhou--------Adayo lighting Huizhou factory 30min by highspeed subway,1.5-2H by car
Shenzhen----------Adayo lighting Huizhou factory 30min by highspeed subway,1.5-2H by car
Dongguang--------Adayo lighting Huizhou factory 20min by highspeed subway,1H by car
Hongkong ---------Adayo lighting Huizhou factory 1H by highspeed subway

Finally, Wish you have a nice and frutiful journey to China.
If need any help pls kindly contact us freely.We should be very happy to be of assistance.
Sincerely,
Adayo Lighting Team