● Product Description
[PROTECT YOUR EYES AND CCT3 SWITCH CHANGEABLE]
The surface of the led ceiling spotlight is designed with the highest quality standards. The matte lampshade softens the light to minimize glare. It can adjust 3 switch of soft light with 2700k-3200k-4000K color temperature to reduce eye fatigue, while its high color rendering index (CRI> 80RA) preserves true colors. Each light is equipped with a c onstant current chip, which prevents the LED light from being affected by voltage fluctuations, therefore no flicker will occur, and this protects the eyes. Adayo lighting also supports spot led dimmable custom.
[SAFE AND RELIABLE QUALITY]
Adayo led ceiling spotlight manufacturer have been approved by RoHS/CE/ERP certification. Design integration can prevent leakage of electricity. Adayo lighting uses high-quality flame-retardant material; fire resistance index is "V0", rust prevention, discoloration prevention, scratch resistance and fast heat dissipation. ADAYO lighting ceilling light has a short circuit and overheat protection to ensure safety during use.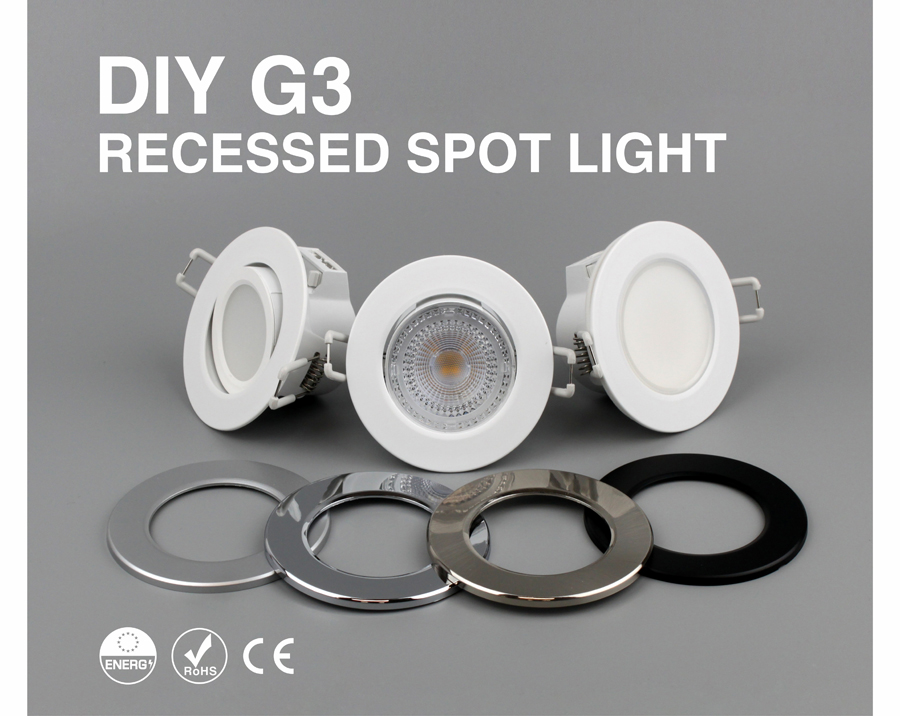 ● Features
1. The smooth housing ensures uniform heat dissipation, and the mini junction box is easy to install and easy to carry.
2. A variety of color bezels are available, stylish and atmospheric, which can perfectly match the ceiling.
3. Integral spring fixture retention clamps are strong and flexible and can bend up to 150 degrees making it much easier to install and mount on the ceiling.
4. This led recessed ceiling lights manufacturer with CCT3 is screw free design, 2pin loop in and loop out.
5. Excellent dimming performance compatible with leading edge and trialing edge dimmers.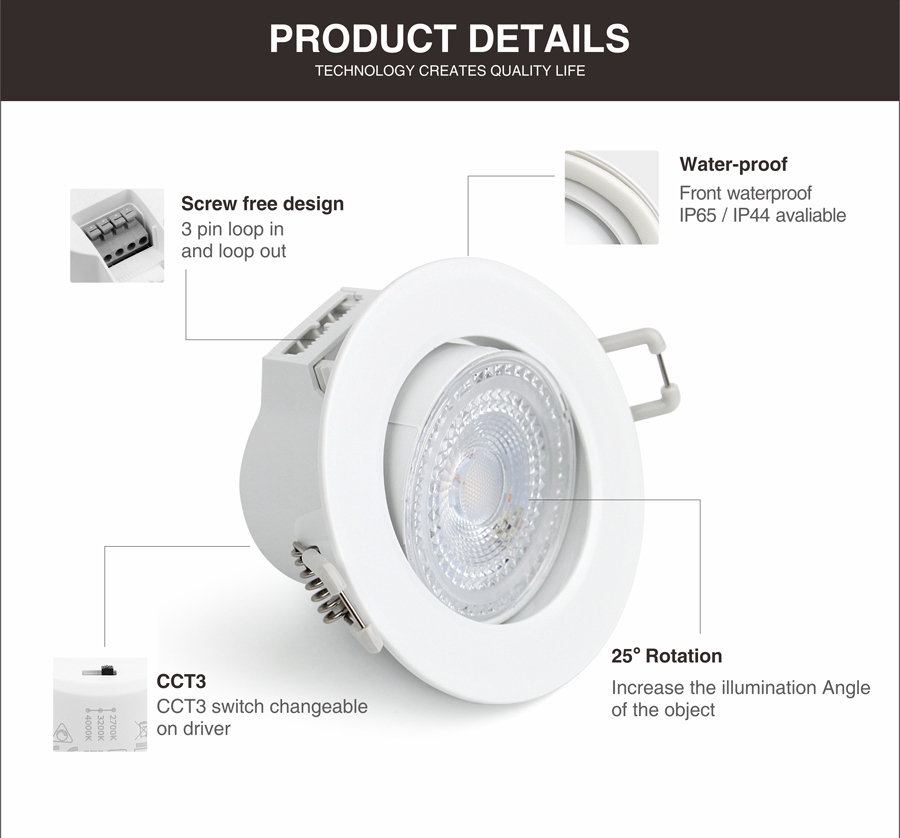 ● Specification: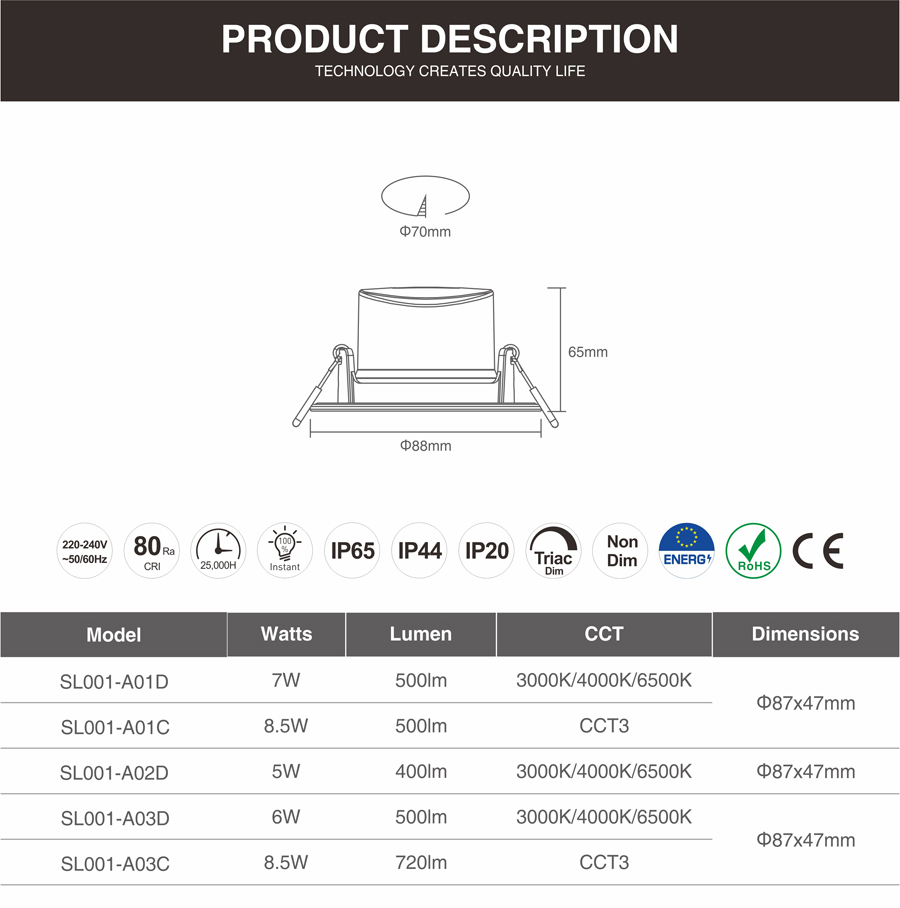 ● Applications
ADAYO Lighting ceiling spotlights adjusts the atmosphere and rotation 25 degree. It is suitable for most work and living places like living room, bedroom, front door, kitchen, dining room, gallery, supermarket, shop, hall, etc.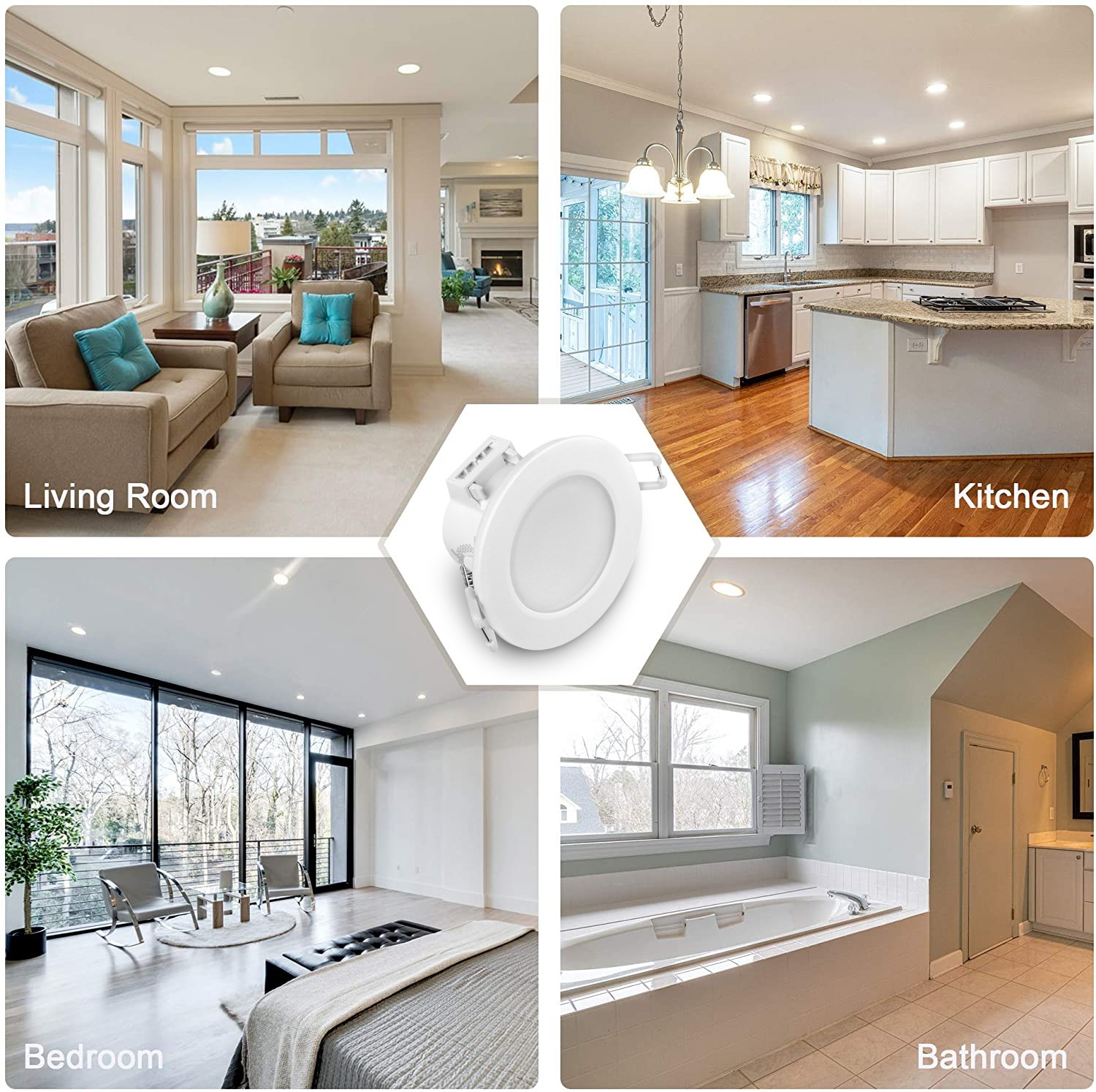 ● Options
Dimmable and no-dimmable

Signle Colour temperature, CCT3

Switch dim to warm

Decorate bezel: bruch nickel, chrome, silver, black

Covering brackets suppot insulation

White and black finished
● Accessories Optional
Bezel shape: round. square.

Bezel colors: brush nickel, chrome, silver, black

Juction box

External driver

Metal extra frame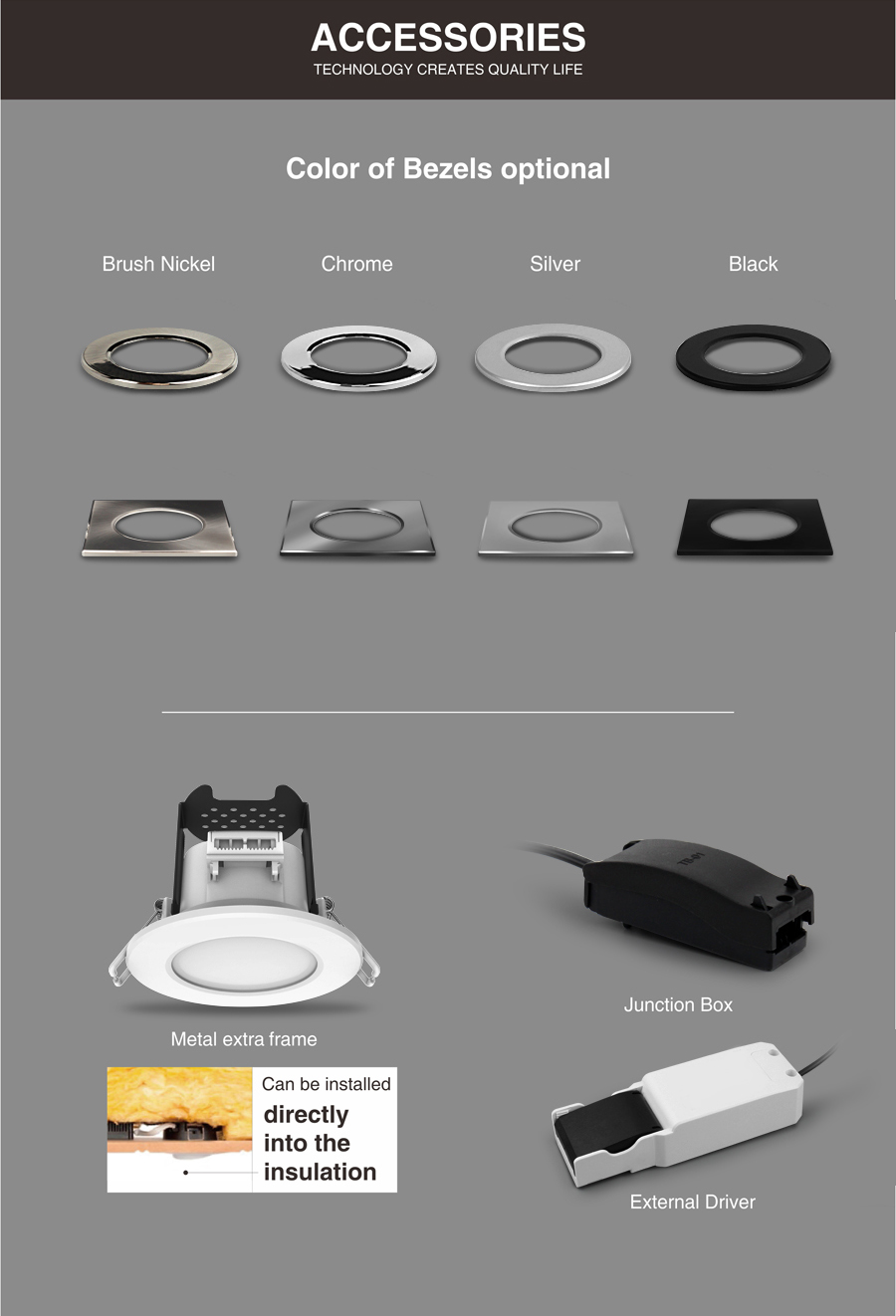 ● Installation Tips:
1. Drill a hole on your ceiling according to the hole size of the spotlight. (75-80 mm)
2. Turn off home power, connect your reserve wires to the cable of the recessed ceiling light. (no transformer required, directly 220-240V)
3. Press the springs of the recessed lamps, then insert the ceiling spot lights into the hole.
4. The installation is completed, power on then turn on the lights. (Wholesale​ LED Recessed Ceiling Lights)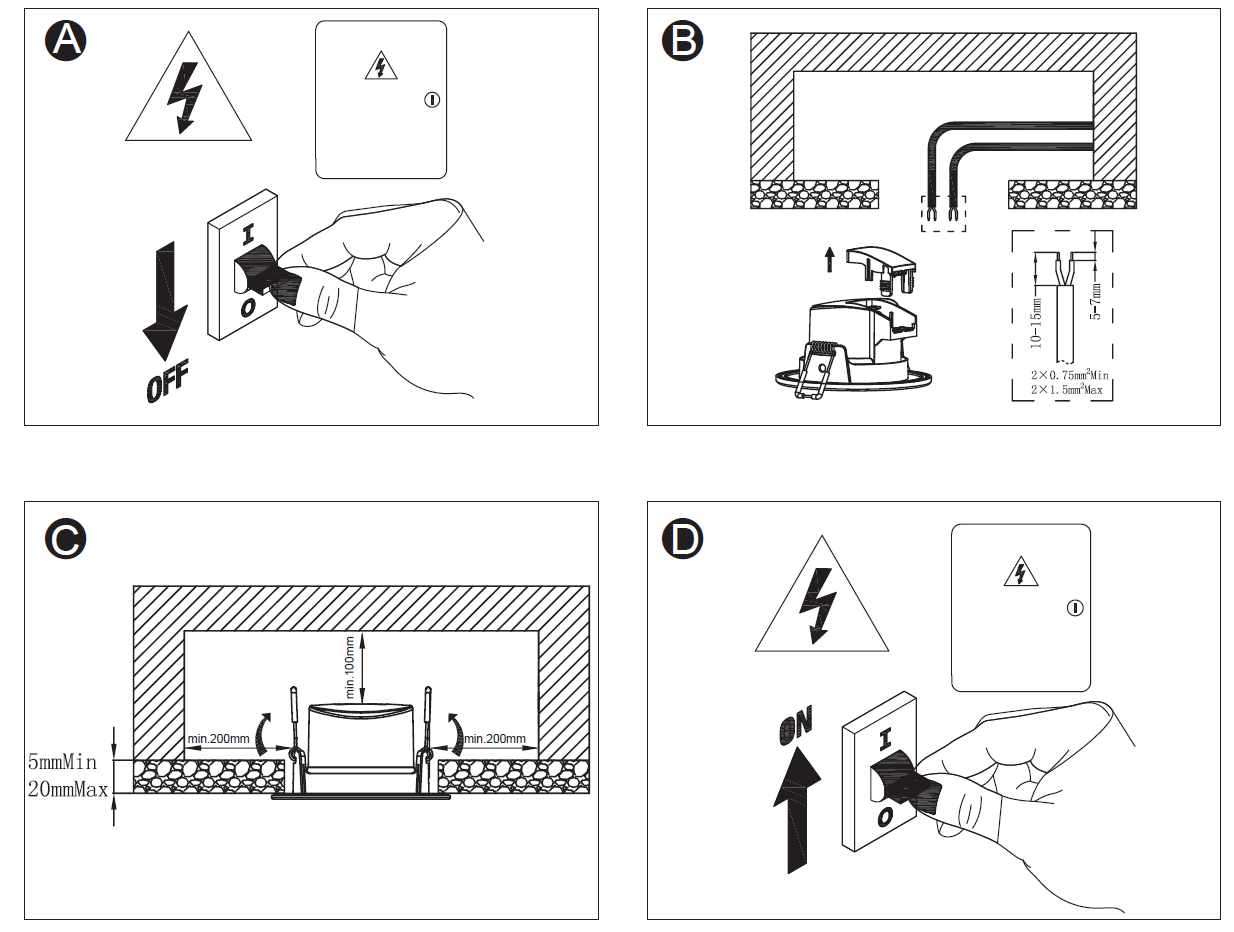 ● Brief introduction of ADAYO Lighting
A wholly owned subsidiary of Foryou corporation (ADAYO, Since 1993, listed in 2017)

Industrial park: 56000sqm

Business line: LED package, LED high power driver, LED Lighting

R&D laboratory: 1200sqm with international standard

R&D team: more than 60 people, one third of them with more than 20 years of experience in the lighting industry

Work shop: 5000 SQM with more than 300 works and 50 production lines

Monthly Capacity(Pieces) : package 1000KK , Driver: Big Watt: 300K, Low Watt: 1000K, LED light: 5000K

New product lunch time: 6-10 weeks.

Payment: L/C, T/T, O/A